Because we're in time of covid, it's good to look back at the beauty of a vibrant city and all the things we miss. Here's guide I made for a friend, and shared with a few others when they asked me what should the absolutely not miss in Paris. Enjoy!
Here are a few addresses you might want to look up during your stay in Paris, that will not be in tourist guides:)
What to see
Parisians are crazy about macarons, and the best you can get (tested and certified) are from Ladurée. There are a few shops around town, my favorite being the one located rue
Bonaparte
(the one on Champs Elysee is nice too, but even more crowded). Take a box of 8, the ones with berries or fruits are sensational.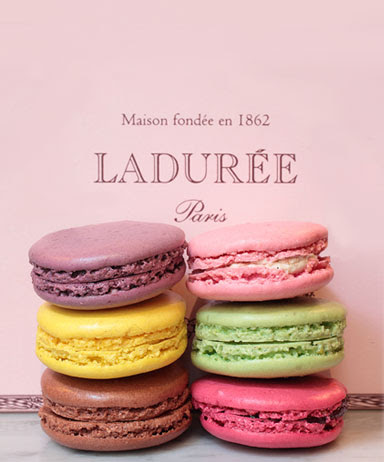 While you're in this area, take a look at Diptyque (
34, Blvd St-Germain
). They sell the most exquisite perfumes and candles in town (yes, that's the same thing as the candle you have on your bedside:-)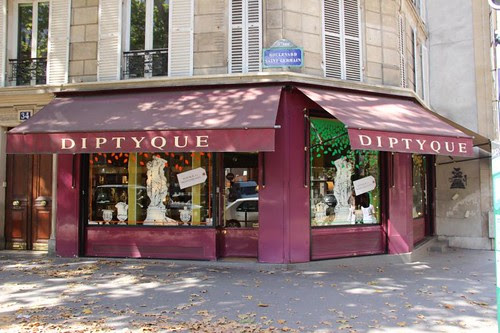 Since French is not your first language, there aren't so many options for shows. American in Paris are always crazy about Moulin Rouge, but it's a tourist trap. Instead, you should go to Crazy horse, where choreographer Philippe Decoufle put up the
most exquisite show.
There will be naked ladies, but it really is for the art.
If you want to see a play in French, you should go to
Theatre de la Huchette
, a small and iconic venue where they've been playing "La cantatrice chauve" since 1957 without interruption. This Ionesco play is kind of difficult to understand, so it doesn't really matter if you don't get the plot !
An interesting neighborhood to visit is
Montagne Ste-Genevieve
, where most schools used to be located ("Quartier latin"). Walking along Rue Mouffetard, you're very likely to stumble on the nice farmer's market with cheap and delicious food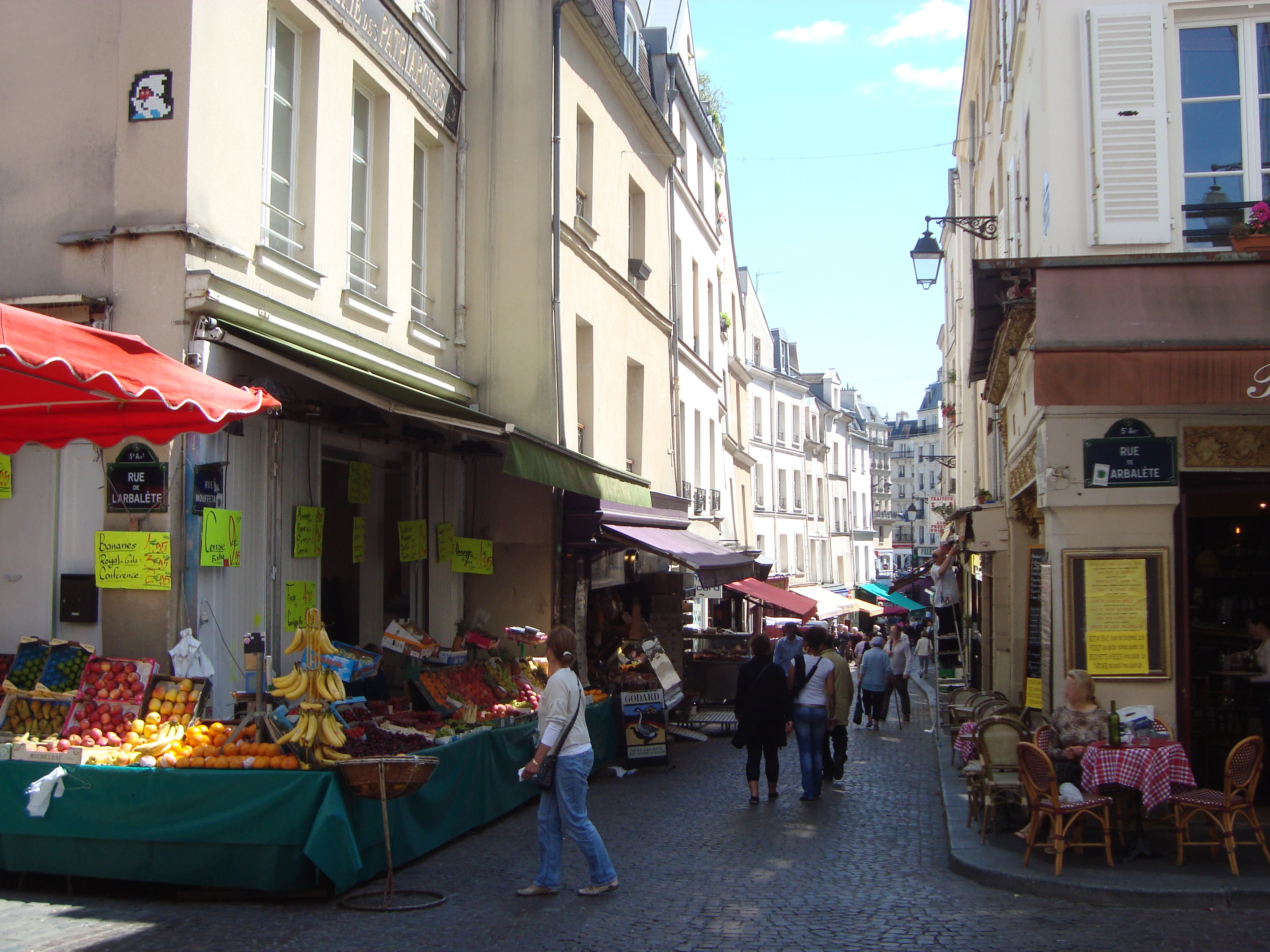 While there, don't miss the Pantheon (where many influential French personalities are buried) on your way to Jardin du Luxembourg, where the Senate is; a nice place to have a picnic if the weather is good.
In the center of Paris, you should go to Ile de la Cite (you should
visit the towers and the crypt!
), where sits Notre-Dame and the
Sainte-Chapelle
, which has the most exquisite stained glass you can find.
You don't want to miss
Ile St-Louis
, a quiet and lovely place that most people miss because they go on the the other island. Nothing to do here, except to relax and enjoy the atmosphere.
After, you can go to the Marais (formerly the equivalent of Castro),  then reach Rue des Rosiers (that's the jewish epicenter of Paris) to have mezzes at "Chez Marianne" or get into the line for the best falafel in town at "L'As falafel" and head to
place des Vosges
.
If you decide to go to the Eiffel tower, I recommend you choose the stairs option. It's a long ascent, but there are stunning views and virtually no other tourist (and you can brag that you're a true explorer!).
Among the many museums, here are the ones to consider (in order of preference)
Musee d'Orsay (the permanent collection is stunning; it was actually voted best museum in the world in 2018)
Centre Pompidou
Fondation Louis Vuitton (brand new, a bit outside of town : a good occasion to explore)
Musee d'Art Moderne
Pinacothèque de Paris
To learn about the ongoing exhibitions, check
this website
. If you go to Centre Pompidou, consider having a drink at
George
, which is the bar on top.
I love the
Museum of Arts et Metiers
, and I find it silly few people actually go there. It's beautiful museum about arts and manufacture; a beautiful setting and very interesting arts and crafts around engineering
I don't have any particular restaurant to recommend, most brasseries serve good food (Verre Siffleur, L'Essentiel where my favorite when I lived in the south of Paris).
If you happen to be in this part of Paris, don't miss the small Rue du parc Montsouris, one of the prettiest in town that I used to cross everyday going to school.

You might also want to visit the Parc Montsouris nearby, a small urban park where people have picnic (it's still a bit early in the season) and the Cité Universitaire.
A ten minute walking North, you will find catacombs of Paris (with skulls and everything! see wikipedia) that you can visit (every true Parisian has been there ! Some even organize parties- the cataphiles)
On the East side of Paris, you will find the
Père-Lachaise cemetery
, which is probably one of the most famous in the world (that's where Oscar Wilde and Jim Morrison are buried). It is huge and very pretty, and not gloomy as you would expect (you don't want to have a picnic there, still!)
If you have time to venture outside Paris (1h public transportation), you might want to consider a visit Versailles, the symbol of past French monarchy.

That should keep you busy for some time, but there are many other things to do,
go to an lyrical act at
Opera Garnier
(hard to get tickets though)
and explore the Hausmannian architecture of the neighborhood,
Or head full East and walk along floodgates of
Canal St-Martin
,
and explore the bars of Oberkampf/Republique,
unless you prefer being in the center and try out Paris nightlife near
rue Princesse.
Where to shop
here's a list of things I forgot, and some places to go shopping.
First, there's Galerie Vivienne, a very nice gallery that almost know one knows about, located behind the Palais Royal (which itself is worth walking through; it has the Buren columns, which were very controversial at a time), and very close to the Louvre.
For shopping, the best area is nearby rue de Grenelle– that's were all the designers are.
Look up for brands such as A.P.C (their jeans are the finest) and Sandro. The Hermès shop in the area is stunning, and it's a good place to buy a tie (their heavy silk ties are worn buy all French businessmen)
The epicenter is le Bon Marché, a giant shop (like Macy's, but refined 1000x) with all the goodness you want
A bit further North, there's Boulevard Saint-Germain– If you want to buy a nice suit, you should go to De Fursac; you can stop at Masmoudi Paris to get delicious Tunisian delicacies
On the Rive Droite (right bank of the Seine), the place to go for (very) high-end shopping is Faubourg St Honoré (Saint-Laurent, Givenchi, Louis Vuitton, Givenchi, etc.). It is a very quiet street, next to the Palais de l'Elysée (the French White house)
you won't buy many things, but the shops are gorgeous. Don't miss
Colette
, which is a shop that dictates the trends in fashion. Not too far from there, there are the Grand Faubourgs and the Grand Magasins : Galeries Lafayette and Printemps (pretty much like Saks 5th avenue). They have great things, but it is usually crowded– don't go there on a week-end !
Not far either, you'll find the Champs Elysées, with many shops, but none is really interesting as they're geared towards tourist (no rip-offs, but no fun either.)
A bit East, there's Les Halles, historically the shopping center of Paris, but they are getting a serious remodeling, so it's not a great place to be around (and the area is CROWDED). Still, there's rue Etienne Marcel area, with many casual wear designer (look-up for Zadig&Voltaire, there's also a Cotélac). My favorite clothes designer, Agnes b, is in the area
Et voilà !